A 67-year-old woman with chronic bilateral intraocular inflammation associated with vitreous cells and subretinal pigment epithelium (RPE) infiltrates (A–B) underwent a chorioretinal biopsy in the left eye after three negative vitreous biopsies. Sub-RPE deposits on spectral domain optical coherence tomography (C) corresponded to collections of diffuse large B-cell lymphoma cells on histopathogy (D–E) and immunohistochemistry (F–H).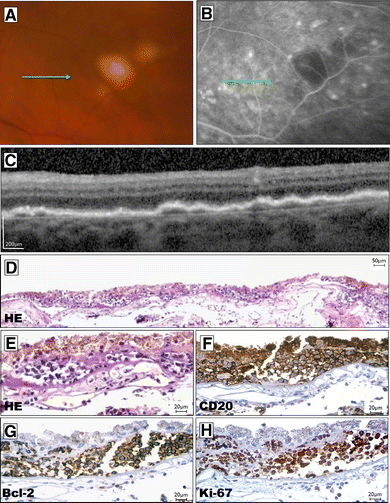 Acknowledgment
The authors acknowledge Victório Vinciguerra Neto, COMT for his work in capturing part of the images.
Conflict of interest
The authors have no financial interest to disclose.
Rights and permissions
Open Access This article is distributed under the terms of the Creative Commons Attribution 2.0 International License (https://creativecommons.org/licenses/by/2.0), which permits unrestricted use, distribution, and reproduction in any medium, provided the original work is properly cited.
About this article
Cite this article
Vasconcelos-Santos, D.V., De Puy e Souza, G.H., de Faria, B.B. et al. Subretinal pigment epithelial infiltrates in primary vitreoretinal lymphoma. J Ophthal Inflamm Infect 1, 171 (2011). https://doi.org/10.1007/s12348-011-0034-x
Received:

Accepted:

Published:

Issue Date:

DOI: https://doi.org/10.1007/s12348-011-0034-x
Keywords